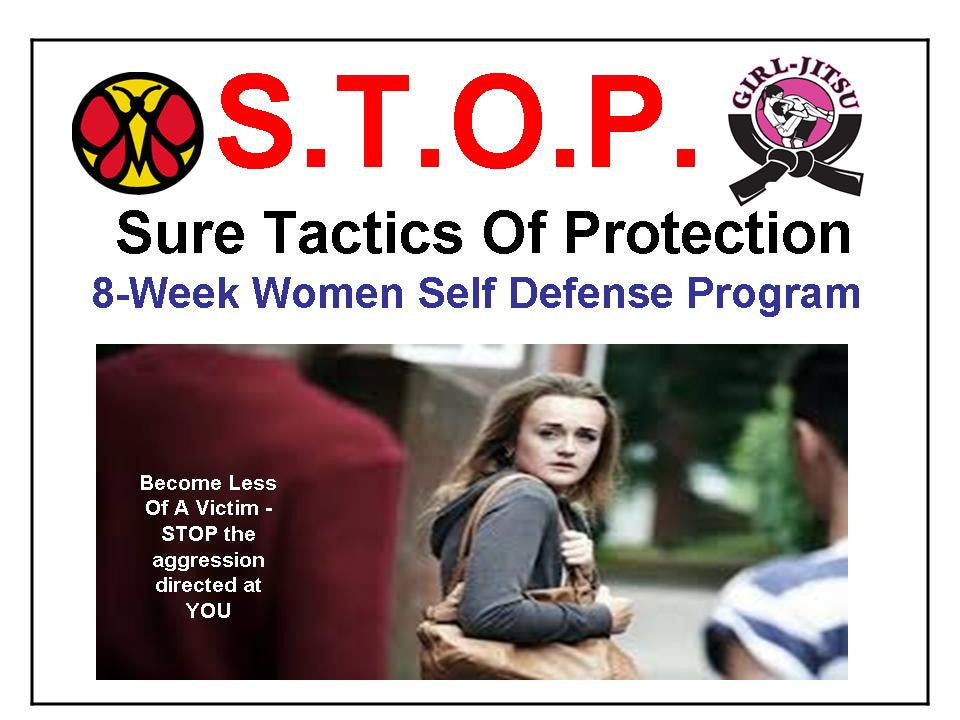 S.T.O.P.-Women Eight Week Self Defense Program
Regular price $374.00 $279.00 Sale
 

S.T.O.P. 
Sure Tactics Of Protection
8-Week Women Self Defense Program

The STOP Self Defense Program
Makes sense of the Strikes, Locks and Grappling of Self Defense
Become Less Of A Victim - STOP the aggression directed at YOU

I, Frank Hargrove, have discovered that an effective solution to effective women's self defense must contain the following:
1. It had to address "adrenaline dump" which is the natural effect of fear induced aggression.

2. It had to be simple enough to teach students in days or weeks instead of years!

3. It had to be effective regardless of the body type of the attacker.

4. It had to be quick, effective and decisive!

5. It had to address real street situations and sexual assault siuations.

6. It had to teach verbal and physical boundary setting skills to avoid physical confrontations.

7. It had to contain a minimum amount of techniques.
Research has shown that only a few techniques can be recalled when fully "adrenalized".

8. It had to be designed to defeat a much larger and stronger attacker!

9. It had to be easy to learn.

10. It had to take into consideration the size and upper body strength of women. Additionally it had to be direct, powerful and yet simple and straight forward.

S.T.O.P.
SURE TACTICS OF PROTECTION
WOMEN SELF DEFENSE PROGRAM

This comprehensive women's self-defense program is now available to the public taught personally by Frank Hargrove, 9th Degree Black Belt

Contains:
1. How to effectively deal with the most common attacks against women!
2. The art of using good verbal and spatial skills to prevent many assaults from becoming physical.
3. How to execute "THE STOP STRIKE". Stop even the largest attacker in his tracks!
4. Quick and effective defenses and escapes from non life threatening "annoyance" attacks.
5. Protecting yourself from the most common of all mugging attacks.
6. Defenses from chokes and strangles.
7. Learning the secrets of preventing verbal assaults from becoming physical!
8. Devastating and finishing counter attacks!
9. How to advoid being tackled and brought to the ground.
10. Strategic targeting secrets. Learning to striking the proper targets in just the right way.
11. Defending against attacks from the front and rear.
12. Effective defenses against verbual attacks and attempted rape.
13. Defending and counter attacking an attack to the head and face!
14. Easy to learn step by step instructions. Every step illustrated and explained. 
Popular topics taught in The S.T.O.P Self Defense Program:
What is S.T.O.P.- Sure Tactics Of Protection
Teaching the Execution of S.T.O.P. Women Self Defense Fighting
Escapes from Holding Attacks
There are many escapes from typical attack situations, however the detail in which Frank Hargrove covers these and the lack of strength required for a subtle escape is often amazing. Once you study subtle escapes, even rougher ones, more direct escapes will be enhanced. Each one comes from his many years of mix martial arts training.
What other have say about the S.T.O.P. Women Self Defense Program training:

"As a women, it's important that your first strike is your best one, as you might not get a second chance. Kyoshi's Hargrove system works. It 's quick, simple and easy to learn to excute." Dr. Lindsey Hardy, Chesterfield, VA

"...easy to learn and very practical. Being a woman I like must women have heard about all the abductions that happen in today's society from big city like New York to the small towns in the Midwest, I feel after studying the Self Defense program with Kyoshi Hargrove I now have a fighting chance to get away from an attacker. Thank you for the wonderful life-saving techniques!" Karen Richmond, Hampton, VA

"I am only 5' 3" and petite. I'm not very strong. Kyoshi Hargrove taught me that I didn't need to be big and strong to win in a real life situation. I am so very glad I found something I can use in a real life situation. The STOP training works for me. Oh yes I have had to use it to protect my self. I surprised even myself. Thank for excellent training" Kathy Driver, Portsmouth, VA
You can bring a friend/training partner if she/he pays a $49.00 enrollment fee.
Once you complete the Eight Week Program you can re-take the program for NO COST

 Become Less Of A Victim.